#CURRENTLYCRUSHING 005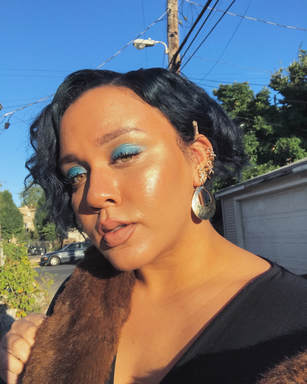 Illustrator & Entertainer
@GABRA_CADBRA
Who are you currently crushing aka your WCE?
I'm in complete awe of Michaela Coel, the creator and star of the British TV show Chewing Gum. Aside from being one of the funniest people to walk this earth, she's a monster. She wrote, produced, starred in and did the music for her own TV series before the age of 30. I'll have what she's having. I'm also really feeling senator Kamala Harris...fingers crossed for 2020!

Who would you Freaky Friday with and why?
I would give my left arm to Freaky Friday with Santigold. She's my favorite musical artist and she has the ideal balance of a high profile celebrity career and a discreet, low key personal life. Sis has it all figured out. Plus, wardrobe, hello.

What's the most Chicago thing about you?
I'm actually not originally from Chicago- I was born in Indianapolis, but I really REALLY love to eat, so I think I moved to the right place!

You have the chance to meet one of your idols and ask them one question; who would it be and what would you ask?
Michael Jackson, and I would ask, what the hell are the lyrics to the falsetto part of the second verse of Butterflies? I'm convinced he wouldn't even know.

What are you up to now? Shamelessly plug yourself!
I just wrapped my first professional production at The Second City! That was one hell of a ride. With my visual art, I'm in my second year of working solely in Microsoft Paint with no end in sight. I'm trying to do more live drawings via projector at parties and events, so if you're seeking unique entertainment for your function, I'm ya girl

What is your favorite website or blog?
Reductress is solid gold. I can peruse it for hours. I also get pretty much all of my outfit inspiration from ManRepeller. Writing humor pieces for both sites is definitely on my bucket list!

Where do you see yourself in 5 years?
There's so much I want to do, and I'm so committed to all of it- I act and perform comedy, I make visual art, I sing and dance, and I write, so it all depends on what pops first. In 5 years, I would love to be writing for a TV show like the Today Show or Full Frontal with Samantha Bee. I would also love to do SNL, but I would love to have my OWN sketch comedy show even more. Hopefully in 5 years I'll know how to animate, so I can merge my love of comedy and my love of drawing to have my own satirical cartoon. Also maybe kids. Or a pug. 2 pugs.

What is your favorite movie or book right now?
This is gonna sound weird, but I have a deep love of good children's literature. I used to teach early childhood art classes, so i'm an expert. I think some of the best humor writers wrote children's stories. Right now I am reading a book I read when I was in 4th grade, Sideways Stories from Wayside School by Louis Sachar. Children's literature is impressive because it is succinct and effective but still so funny- children's authors have to find ways to say more with less. There's a sort of finesse to that kind of simplicity. I probably look like a weirdo on the train, but I'm having a good time. I just tell people it's for art.

What is your favorite color?
Easy, hot pink, my natural hair color.

Outside of your current career or passion, what would you spend the rest of your life doing?
Before I decided to go to art school I actually had a lot of scholarships lined up to take the pre-law route. I wanted to study international and comparative law and human rights. I'm still really passionate about it, I've just used art as my catalyst for change instead, but I still think I could make a pretty kick ass politician. Who knows?